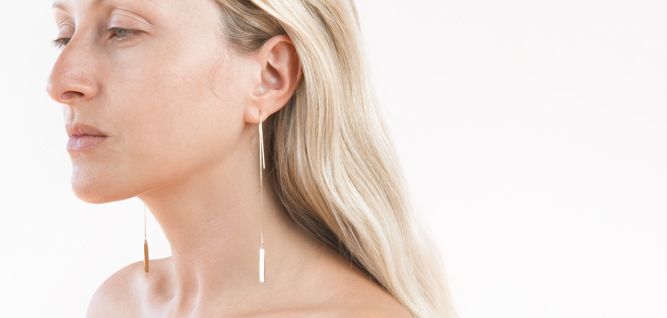 The creative mind driving the 6229 brand is that of Giusy Liguori.She comes from a family of jewelers, her grandparents opening their first shop in 1958. Giusy has made their world her own now.Determined to launch her own career, Giusy decided to leave her hometown in 2000 to study Fashion at Milan's prestigious Marangoni School.Even before finishing her studies, Giusy began working in the fashion industry. Now with over ten years of experience, Giusy's profound knowledge of fashion and luxury good design is shown by her incredible attention to detail, her perfectionism and keen sensitivity.
Her taste is a mix of the unconventional, a true passion for the handmade and for the artisanal and a unique way of rework contemporary structures with her personal, modern touch.
Giusy is inspired by Gothic, neoclassical, deco, liberty and contemporary Art, literature, architecture and buildings, indie rock, alternative, folk and grunge music; artists like Matthew Barney, Carsten Nicolai, Thomas Saraceno, the traditions of different cultures both from outside Italy and of those from her south Italian roots.
Giusy's creative process:
"My creations are based on feelings that come from the deepest part of my soul and which I then express through my work.I close my eyes so that images of everything that inspires me on a daily basis can flow before me; then I open my eyes and I start to draw, to design, to create.
The wonder for me is in these fleeting moments, when intangible ideas within become tangible creations!"
IDEA
The core products for 6229 are luxury and premium handmade artisanal fine jewelry and accessories in gold and silver with a particular focus on fine detail, materials and finishings.
The goal of 6229 is to create unique pieces of fine jewelry for each individual client by providing the customers a series of materials to customise their own jewels.
Collection plans and the artisanal production itself are realised in Italy by an exclusive team of artisans working to the finest traditions of Italian jewellery.
6229 is essential, avant-garde, provocative, symmetric and asymmetric, metaphysical and unexpected.
Influences from the '90s and '70s
Iconography and tradition reinterpreted in a contemporary way.
History and culture for creations with hidden meanings.
6229 sets out to DEFINE THE BOUNDARIES THEN SHOOT THEM DOWN!
CONCEPT
The logo for 6229 was designed by the artist Indra Moroder. It is composed of both numbers and a symbol represented by a brush, the very tool Giusy's Grandfather used during his military service in the Navy in the 1940s. The branded serial number '6229' this brush bore Giusy took for her own logo. And symbolically, Giusy sees the brush as a way of removing everything extraneous and unnecessary, to create space and an unhindered vision, the idea which represents THE ESSENTIAL concept that inspired 6229.